Think about who you are. Are you a creative person with dreams of pursuing a career in the media arts? Is graphic design, illustration, or video production your passion?
The Integrated Media Arts (IMA) program at Juniata is an interdisciplinary program, enabling students to graduate as multimedia specialists with a wide array of career possibilities. IMA faculty encourage students to think about who they are, what their interests genuinely are, and to shape a curriculum that will help achieve their digital career goals.
We collaborate across campus with faculty from many different departments to ensure that each student has a curriculum design that matches their needs and interests.Ryan Gibboney, assistant professor of Integrated Media Arts
Ryan Gibboney, assistant professor of Integrated Media Arts at Juniata, says, "IMA is very important to potential creatives in many different fields, and the IMA program at Juniata is unique. We collaborate across campus with faculty from many different departments to ensure that each student has a curriculum design that matches their needs and interests."
Designated Programs of Emphasis (POEs) include IMA and Art; IMA and Communication; IMA and Information Technology and Computer Science; and IMA and Writing. In addition, students can individualize their POE to merge other interests that reflect their professional goals.
Students have abundant experiential opportunities that position them for success upon graduation, with recent alumni gaining junior production positions or other design positions that require 1-3 or more years of experience. After the Juniata IMA program, graduates have robust portfolios and a list of experience working for community partners and on campus, including the Digital Media Studio, supporting the Video Production Team, or working in the Sports Information Office, to name a few. In addition, professional industry-based experience is an integral component of the program, with internships, community projects, and undergraduate research opportunities. Professor Gibboney says, "Juniata students receive much more industry experience than the average undergraduate student would receive in a traditional graphic design or video production degree."
Embrace your creativity and let Juniata's IMA program prepare you for your digital career. Read on for alumni and student success stories.
Vinnie Caroselli '21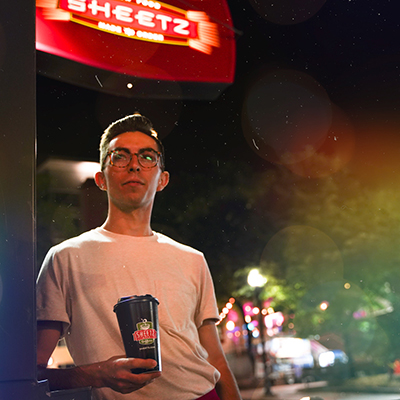 POE: graphic communication
Graphic Designer with Sheetz Inc.
Vinnie chose Juniata's IMA program because of his passion for graphic design. He developed a love for the field during his practical experience in high school, so when he learned that Juniata's IMA program was also heavily practicum-based, he was hooked. "I knew I wasn't going to be completing work with no end goal, but rather work that applied to real-life clients," Vinnie says. He is an excellent example of how Juniata's POE approach is truly individualized, as Vinnie designed his own POE, Graphic Communication. "I knew going into college that I did not want just a vocational education based solely in graphic design but something that combined all of my interests. My interests in graphic design, communicative analysis, and even a little bit of English heavily inspired my POE. Being able to combine three departments into a program I could truly call my own made all of the difference in my Juniata experience," Vinnie says. Vinnie reflects on the experiential learning opportunities that shaped him and prepared him for his career with Sheetz Inc. as a graphic designer. "Courses like IMA Practicum I & II were client-based courses that built my knowledge in client communication and the professional design workflow. Courses like Intercultural Communication and Interpersonal Communication allowed me to become a well-versed individual when connecting with diverse audiences in my design practices. These courses taught me about the constitutive view and how that relates to both visual and verbal communication tactics, ultimately showing me that my work can have the impact to shape people's perception of the world." Vinnie's most impactful project during his time at Juniata was completing his Honor's Research Thesis. This project was the culmination of four years of learning and bridged the fields of IMA and Communication into one project to show how they work together. His goal was for designers to take some of the theory-based knowledge mentioned in his paper and put it into practice to become more empathetic and resourceful artists. "I believe that Juniata's option to individualize your program of emphasis is simply unmatched anywhere else," Vinnie says. His Juniata education helped prepare him to be a successful designer due to the amount of practicum experience. "Already understanding client communication, the design process, and much more, allowed for my transition into Sheetz to run very smoothly," Vinnie says.
Jenna Miller '20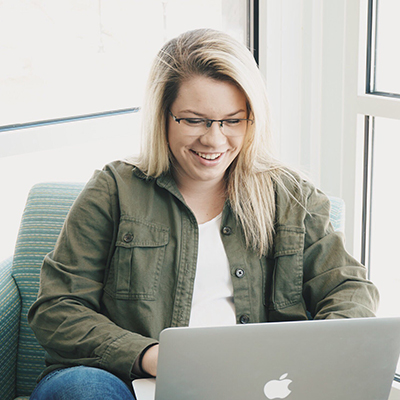 Huntingdon County Visitors Bureau
Jenna was initially interested in photography/digital media. As she went through her first two years in the Juniata IMA program, she found a love for graphic design and a passion for working with small businesses and community organizations. Jenna's POE was IMA and Marketing and her education in both of these fields has helped her excel in her career. "I chose the IMA and Marketing path because I enjoyed learning about both fields and how they work so closely together in the overall marketing field. I realized that knowing IMA and Marketing would be extremely beneficial to my future career. When you have a background in both of these areas, you have the advantage. You know how to create a marketing campaign from a business perspective and the skills to create branding/graphic design material that can enhance that marketing campaign," Jenna says. She went directly into a career after graduation. She was accepted into a summer internship at the Huntingdon County Visitors Bureau the summer of her junior year. After completing the internship, the Visitors Bureau hired her as a Visitor Information Specialist, a part-time position through her senior year at Juniata. She is now a full-time staff member. She credits IMA's community engagement courses (specifically IMA Labs and IMA Practicum courses) as beneficial in preparing her for a future after college. "Through those courses, I was able to engage and complete real-world projects with small businesses, community members, and organizations. Real-world projects are among the most unique qualities of the IMA program. I felt like my work was not just for a grade but that I was making an impact and using my education to help improve the local community through these courses," Jenna describes. Jenna's education has poised her for success in the workplace. "I felt so prepared going into the workforce because the courses I was taking at Juniata helped me gain practical experience and knowledge that made my transition into my career field seamless. I have used a significant amount of my education to make a positive impact at my company. I feel that my education allowed me to bring new and inventive processes and ideas into my workplace. That has made me an asset to my company," Jenna says. Her advice for future and current students includes "take full advantage of all opportunities that are available during your time at Juniata. Always be willing to learn and make positive connections with anyone and everyone. You never know what a small connection could lead to!"
Alex Stoudt '17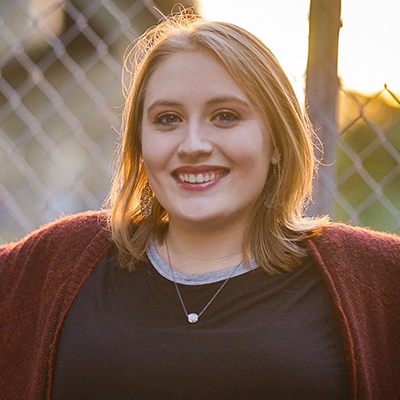 POE: multimedia production
Creative Lead for Comcast Advertising's internal full-service creative agency Mnemonic
"Juniata's IMA program was very appealing to me because of the way I could individualize my degree track with the POE system. At many of the other colleges and universities I considered attending, the degree programs seemed structured to choose one path. I wanted an extensive scope of studies while also being able to focus on my biggest interest being video production," Alex explains. She created an individualized path, Multimedia Production, mixed with International Studies, combining her core interests. Going into college, I couldn't decide how I wanted to focus my studies across two significantly different programs," Alex says. With the POE structure at Juniata, Alex was able to combine the two seamlessly. Immediately after graduating, she had an internship with a small video production company doing hands-on, creative work with clients across advertising, digital, and social media platforms. "I was able to get this internship opportunity through networking and Juniata alumni connections," she says. Currently, Alex is Creative Lead for Comcast Advertising's internal full-service creative agency "Mnemonic." She has won several awards for her work in the past year, including most recently being nominated for two Emmy awards. "Juniata has given me many amazing skills to help me be successful in my career. One of those I use every day is effective storytelling when presenting creative ideas to clients (Communication courses and Digital Storytelling). Having been in the small classroom environment at Juniata, I gained significant confidence in myself and my work to be a strong director and producer on set and around my peers. I apply those critical thinking skills learned during classroom discussions and lectures when I need to shift on a creative concept or solve for a revision a client is requesting that didn't seem feasible at first glance. Lastly, and perhaps most importantly, I use the skills acquired in the IMA program to challenge myself and think outside the box when developing new creative ideas for my clients. I can push beyond the "norm" and create something unique and memorable for our advertising strategies," Alex describes. Alex goes on to explain her most impactful experience while at Juniata. "It was the opportunity to work outside of the classroom hands-on in the Video Production Team. That opportunity gave me tremendous experience working directly with clients, problem-solving, and being a part of a team environment. I also had the opportunity to refine the skills I learned in the classroom and apply them to real media and video work. This experience was a huge factor in my current employer's decision to hire me for the role I'm in as Creative Lead," Alex said. Her advice for current students: "take as much advantage as you can of the many extracurricular activities relating to IMA that Juniata has to offer - the Video Production Team, Digital Media Studio, Juniata Marketing Department opportunities, clubs, and more. Some of those experiences are still ones that I remember fondly and rely on to help me grow personally and professionally. At Juniata, you have an amazing opportunity to learn incredible things in the classroom and then apply them and challenge yourself to grow in those extracurricular activities (which are so much fun to be a part of anyway!)."
Max Prosser '23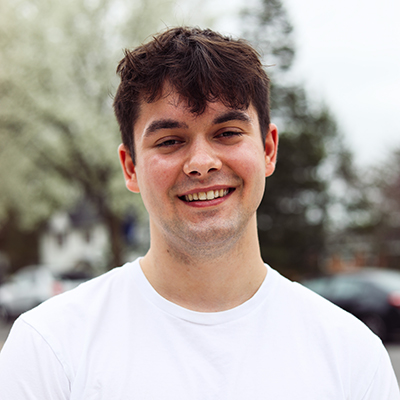 POE: digital media production
IMA Labs course teaching assistant
Max Prosser chose Juniata's IMA program because of the wide range of classes. "Being able to go in different directions with classes in subject areas such as digital media production, design, and community-based design initiatives has made my experience so far wildly helpful," Max says. His POE is Digital Media Production, but his studies have overlapped with IMA and Communications. Max says, "I have enjoyed studying how people interpret media and how to create content that resonates with people based on the subject matter and nuance that is built-in." When reflecting on his time at Juniata so far, Max says that IMA Labs was one of his favorite courses. "I gained so much experience as a photographer, videographer, and as a human being. Working in a team environment as a freshman helped me gain confidence in my craft, gain important social skills, and learn from the peers I worked with." Max plans to work in the esports industry in media production. "Whether this means as a photographer, production director, or in social media, I am in love with the competitive nature of the scene and will work my way through telling the stories of the players of tomorrow." Max attests to the one-on-one attention and collaboration with the IMA faculty. In addition to teaching several of his most meaningful classes, Professor Gibboney is Max's POE adviser, and this semester he worked for her as a teaching assistant in IMA Labs.