Why Study Biology at Juniata?
"The study of biology is just cool," says Jay Hosler, David K. Goodman' 74 Professor of Biology and the Chair of the Biology Department at Juniata. "Who would not want to study the most unique thing in the cosmos—life? How does the human brain achieve so much, from calculating Pi or writing an opera? And then, there are two of today's biggest challenges: climate change and the global pandemic. In both cases, people with biological training work on the front lines to characterize and solve problems. What molecular genetics and biology do you need to know to disrupt the way a virus is working? What do we do when climate changes cause increased temperatures and ocean levels and disrupt whole ecosystems? Juniata has graduates out there right now answering these questions."
"What molecular genetics and biology do you need to know to disrupt the way a virus is working? What do we do when climate changes cause increased temperatures and ocean levels and disrupt whole ecosystems? Juniata has graduates out there right now answering these questions."Jay Hosler, David K. Goodman' 74 Professor of Biology and the Chair of the Biology Department
The biology department at Juniata provides a comprehensive and flexible curriculum that allows students to apply what they learn to real-world applications. The study of biology at Juniata poises students for success with opportunities in an array of fields from health professions and preparation for medical school, to positions in government and environmental health, to name a few. Students leave Juniata with a wealth of research and hands-on experience.
Read more about Juniata's biology program at the following link and our alumni and student success stories below.
Sammi Baker '22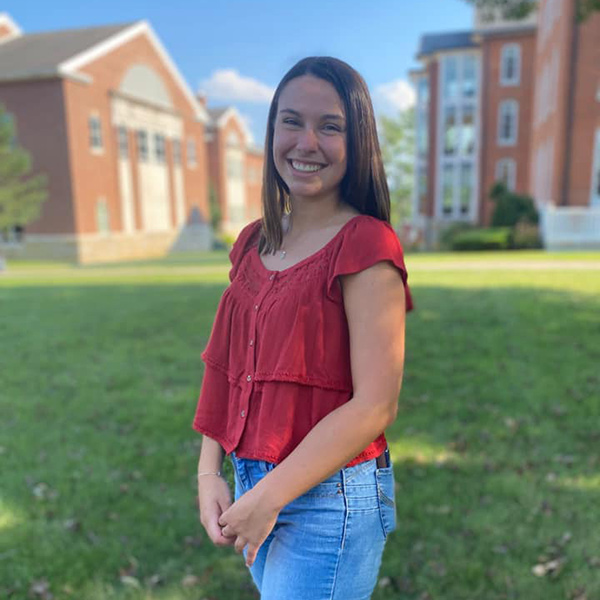 When Sammi was applying for college, she thought she wanted to study medicine. She loved chemistry and biology in high school, so she applied to various schools within the state known for their science programs. "When I toured Juniata, I knew the program was a great fit for me. The classrooms were small, and the relationships with the faculty were unmatched. I could tell the faculty truly was invested in the students and willing to go the extra mile to make sure that concepts are understood," says Sammi. Her academic career has been dynamic, with abundant research opportunities and experiential learning that has shaped her desire to be a scientist.
She explains, "Something I love about Juniata is the flexibility within the POE, so you are not 'locked in' from the start of your college experience. During my first semester at Juniata, I joined a research lab under Dr. (Daniel) Dries within the biochemistry department. I was drawn to the lab because it was focused on a protein involved in the formation of beta-amyloid plaques in Alzheimer's Disease. Soon after joining the lab, I began considering becoming a scientist rather than a physician. My love for science was reinforced during the research investigation, and I decided to tailor my POE to this newfound career path. I worked with my advisor, Dr. (Jill) Keeney, as well as Dr. Hosler, to individualize a POE that would emphasize scientific discovery within the specific field of neuroscience. It ended up being very similar to the Biology/Pre-Med POE I began with, and I could take courses that would benefit me as a researcher (statistics, biochemistry, etc.). The path was completely customized to my interests and needs." Sammi also has a secondary emphasis in psychology.
Her research opportunities while at Juniata have included collaboration with Penn State. She also spent a summer as an undergraduate researcher at the Mayo Clinic. Sammi is graduating this spring with plans to attend graduate school in biomedical sciences. She will be a biomedical scientist who hopes to become a professor because she is passionate about mentorship and education. "I know how valuable these things are, and I would love to be able to influence the next generation of learners and scientists, just as the faculty here have done for me," she says. Having just completed graduate school interviews, Sammi reflects that "Junita's interdisciplinary approach has positioned me for success and the faculty support is outstanding."
Emma Medlock '23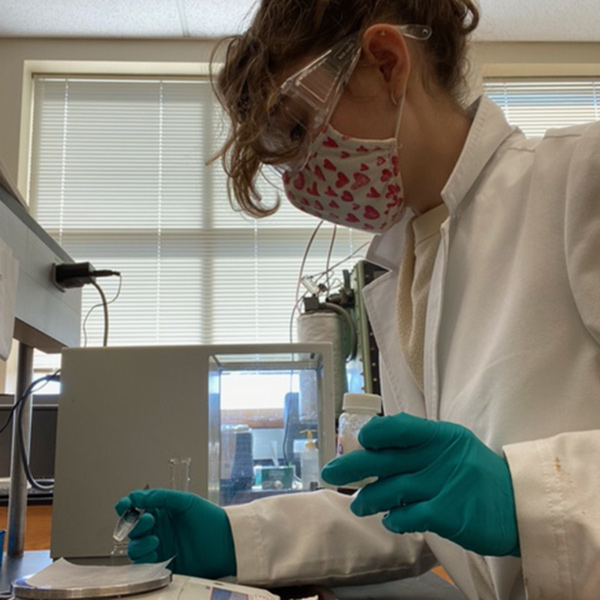 POE: chemistry with a secondary emphasis in French
Emma needed a solid foundation in biology for her POE in chemistry with a secondary emphasis in French, and she knew that Juniata could offer it. She chose to take more biology classes and be more involved in the biology department because of her interest in microbiology. "Essentially, I'm getting a POE that'll allow me to be successful in both biology and chemistry. Juniata's individualization as far as degree paths go affords me this opportunity," Emma said. She added, "I would recommend the program. It is strong and sets you up well for graduate (or medical) school. Juniata keeps you on track to graduate with a reputable degree while also allowing you to pursue other interests."
Her experiential opportunities include credited research in the lab of Dr. (Regina) Lamendella. There, she learned more in-depth laboratory skills, including microbial techniques such as PCR and DNA sequencing, which are now foundational to biology as they continuously grow in the field. She is on a project in the lab that examines the microbiome of the wound eschar of burn patients. Emma also had a Penn State USDA internship (during the summer of 2021) in the food microbiology department, working on discovering the wine potential of wild yeast species.
All the hands-on experience has made Emma want to be a researcher herself. "I love the research environment, and though it can be frustrating when you don't get a result you want, it is ultimately worth it and gratifying," Emma said. With research opportunities as early as her freshman year, Emma gained access to the internship and now feels confident her applications to grad school will be robust with the internship training and three semesters of research experience by her sophomore year. "Juniata's Biology department is hands-on, and research opportunities are abundant. It is positioning me for further success," she says.
Erin Satterthwaite '10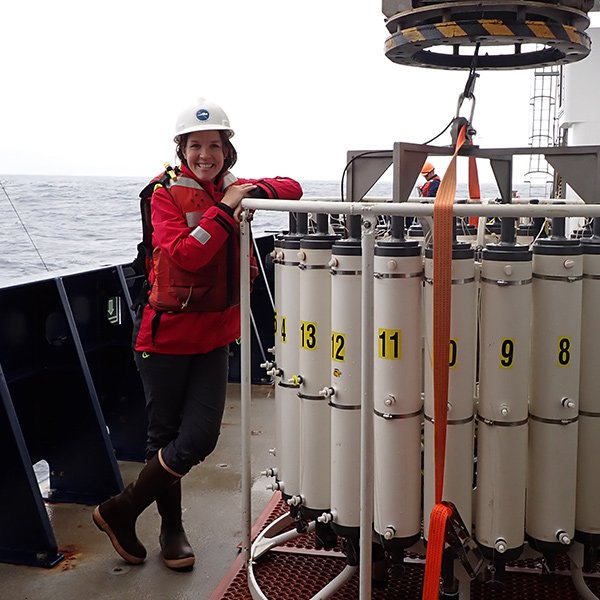 Ph.D. in Ecology from the University of California Davis
Erin grew up in California with a passion and curiosity for the ocean. She searched far and wide for the right undergraduate institution to study biology. "What really stood out to me about Juniata was the strong scientific focus and biology department within the context of the liberal arts education. This combination was really unique and exactly what I was looking for," Erin says. So, she packed her bags and headed to Pennsylvania, where she quickly embarked on experiential opportunities her freshman year. Erin worked closely with Dr. (Douglas) Glazier conducting independent research. "The experience was really valuable since we went through the entire scientific process: from developing a research question to conducting the research to communicating it," Erin explains.
She also studied marine science abroad in India and the Galapagos Islands. She credits both opportunities with helping her understand the way that different communities connect with the ocean and their local environments. In Erin's words it is really "how you do science so it works with local communities" She also did small-scale experiments at the Raystown Lake Field Station and learned how to write up a report on her findings and how to submit as a journal article. Erin says, "Juniata is it! The college values relationships and connections and also takes a holistic view of science and inquiry, which poised me for future success." She also had opportunities to serve in leadership roles: both in student government and helping to lead an outdoor club.
After Juniata, Erin went to the University of California Davis where she earned a Ph.D. in Ecology. "Studying ecology is about understanding the interconnections of nature and how essential that is to our lives," Erin says. She is currently program coordinator at the California Sea Grant & Scripps Institution of Oceanography, where she is focused on using long-term ocean observations to understand changes in the ocean and how those changes affect coastal communities. Her position entails research, stakeholder engagement, and outreach and education to ensure that the data is being effectively used and communicated, which is so important in these times of rapid environmental and social change.
Jonathan Borrelli '10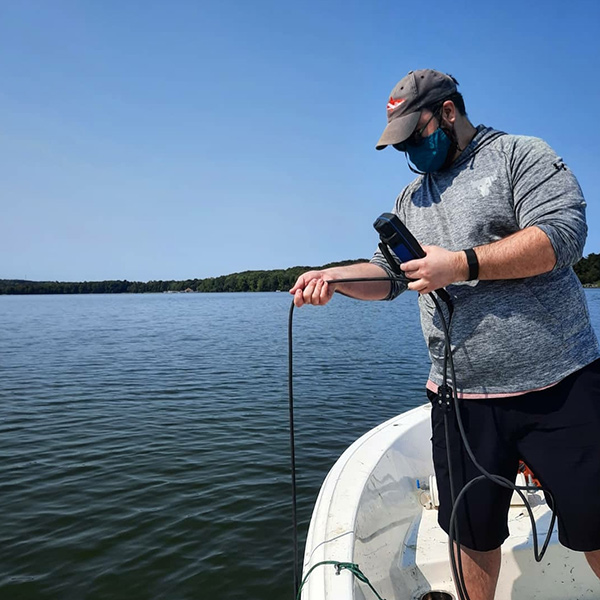 postdoctoral researcher at Rensselaer Polytechnic Institute
Jonathan Borrelli first learned about Juniata from a search with his high school guidance counselor. Juniata came up as one of a few schools that had a zoology program, what Jonathan was interested in at the time. "What sealed the deal for me was my campus visit. I really liked the community atmosphere of the college, and everyone I met was very nice. I was able to sit in on a class (Evolutionary Psychology) and talk with several professors. I left the experience with a very positive attitude about Juniata and the biology program. I was also very excited about the study abroad opportunities at Juniata, particularly the opportunity to study at the Universidad San Franscisco de Quito (USFQ), which let you study while living on the Galapagos Islands," Jonathan explains.
He goes on to say that "The Juniata biology program gives a good all-around education in the fundamentals of biology, while also offering the ability to branch out into the areas of the subject that most interest you. For me, that included studying vertebrate zoology and ecology, as well as being able to take several ecology and evolution courses during my time studying abroad. The opportunities for students to develop their skills doing scientific research is definitely one of the best aspects of the program, and something that puts Juniata ahead of many other colleges where that experience can be more difficult to come by."
Experiential opportunities played a big role in his success at Juniata and beyond. He worked closely with Dr. (Douglas) Glazier, also his academic advisor, doing research on metabolic scaling in amphipods. "I was able to do research both for credit and I received a summer fellowship to continue the work. I learned a lot about science by doing this, and the opportunity to do research as an undergrad is one of the things that attracted me to Juniata. I also got to present my work both at the Juniata Liberal Arts Symposium, and at a regional research symposium," Jonathan said. He studied ecology and evolutionary biology abroad in both Ecuador and the Galapagos Islands, as he had hoped, and says the experiences were the best of his life. He also speaks fondly of the remote field course at Juniata that brought together biology, geology, and physics culminating on a two-week trip through the southwestern U.S. "It was an excellent experience, and I particularly remember learning about the geology of Bryce Canyon, catching lizards in Moab Utah to understand microhabitat use, and visiting the Grand Canyon" says Jonathan.
He is currently a postdoctoral researcher at Rensselaer Polytechnic Institute, working on the Jefferson Project at Lake George in New York. Jonathan describes, "I am developing methods to better understand the ecology of lake ecosystems and use that knowledge to predict how lakes will respond to environmental change. I can definitely say that Juniata helped me. My research with Dr. Glazier was one of the main reasons I was accepted into the Ecology and Evolution graduate program at Stony Brook University, where I earned my Ph.D. I also think that the large number of philosophy and interdisciplinary courses I was able to take while at Juniata really helped develop the way I think about and approach problem solving in my research."