Why Choose Juniata College's Environmental Sciences and Studies (ESS) Program?
Juniata is located in a region of central Pennsylvania containing abundant natural resources. It is a beautiful setting to study the environment. Mountains and forests, diverse wildlife and aquatic habitats, field work and being outdoors are highlights of the learning experience in the ESS Program.
"Where else would you want to be? Wouldn't you want to choose a school close to nature?" asks Dr. George Merovich, associate professor of fisheries and aquatic sciences. Juniata offers hands-on learning in the field with small classes, the opportunity to conduct research with faculty, and countless experiential learning opportunities including those provided by Juniata's 365-acre environmental research complex for ESS students, the Raystown Field Station.
"Our outdoor resources make us who we are in the environmental sciences space" says Merovich. The field station offers access to expansive, mountainous wildlands within the Raystown Branch of the Juniata River watershed, a major lake fishery on Raystown Lake (largest inland reservoir in Pennsylvania), as well as an educational program rare for an undergraduate institution. The Environmental Science Program has a collaboration with the U.S. Army Corps of Engineers, who manage Raystown Lake, and this adds research and applied science experiences for students on more than 29,000 acres of water and forest resources.
ESS students experience a wide variety of disciplines and may focus on wildlife conservation, fisheries and aquatic sciences, or environmental studies. Classes take advantage of the area's natural resources putting research methods and techniques into practice, such as sampling biota that live in water, surveying habitats for protecting wildlife, and employing different measuring devices to assess the health and quality of the environment. Juniata's ESS Program presents content and theory in a student-centered, collaborative atmosphere and reinforces that learning with hands-on, experiential activity. Learn more and schedule a time to talk about studying environmental science at Juniata.
ESS students and alumni share their experiences:
Grace Lewis '21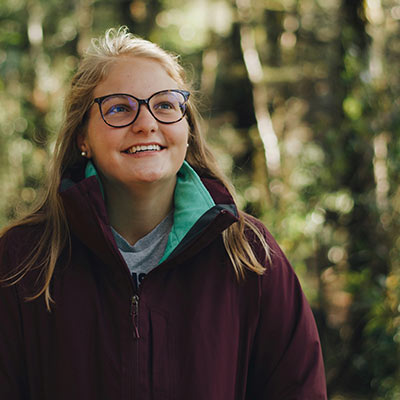 Grace Lewis knew she wanted to pursue environmental science in high school when she realized her passion for the outdoors could be made into a profession. Juniata's ESS Program stood out among others, especially with the 365-acre Raystown Field Station. "You just can't get that other places" Grace said. The station makes incorporating what you learn in the classroom within the field almost immediately possible. Grace is currently spending a second semester at the field station, where she is taking a nature photography course with a morning lecture and afternoon of taking photographs. In her freshman biology class, she was surveying streams in the second week. "It's hard to compare that level of hands-on experience with other schools." Grace's experiential learning opportunities have been robust. Grace is now in her final semester following a return from spending winter break in Alaska, where she used her award from the ESS professional development fund for an animal care volunteer position at the Alaska Wildlife Conservation Center. Grace also continues environmental research with ESS Program Director Dr. Uma Ramakrishnan on the Allegheny woodrat, a threatened species in Pennsylvania (PA). Additional experiences have included an environmental education internship with the Raystown Conversation Education Partnership (RayCEP, a partnership between Army Corps of Engineers, Juniata College, and the Friends of Raystown Lake); commendation on her research poster during a Pennsylvania Chapter of The Wildlife Society annual conference; a handful of volunteer opportunities with the PA Game Commission; studying abroad in New Zealand where Grace was involved with local conservation associations; and a volunteer position in her hometown at the Lehigh Gap Nature Center where she led ecosystem comparison hikes for K-6 students. "Juniata has truly provided me with a one-of-a kind experience, and I wouldn't want it any other way."
Nicholas (Nick) Smith '21
Fisheries and Aquatic Sciences
Nick Smith spent as much time outdoors as he could growing up. He still does, and credits Juniata's focus on field work and getting outdoors as a reason why. "If you want to get into the field, this is definitely the school to go to for the classes and all the research experience you can get." Not only are classes frequently outdoors, Nick explains, but field work is easier with smaller groups of people, indicative of Juniata's small classes and close teacher to student ratio. He confesses that Juniata was not on his radar at first, however two factors made Juniata his final decision: its Raystown Lake Field Station and obvious focus on the importance of field work and the fact that Juniata has a Fisheries and Aquatic Science focus, Nick's niche. He is poised now for graduation in the spring and plans for a position in watershed research and conservation with the Fairport Fish Hatchery in Muscatine, Iowa, where Nick will apply his degree in Fisheries and Aquatic Sciences with his minor in Data Science from Juniata. Nick's experiential learning opportunities have included a semester at the Raystown Field Station where he focused on aquatic ecology; and ongoing research with Dr. George Merovich, associate professor of fisheries and aquatic Sciences, that has covered stream restorations, invasive species research on a rusty crayfish species found in the Juniata River, and research on micro-invertebrates that live in waterways.
Alex Metcalf '01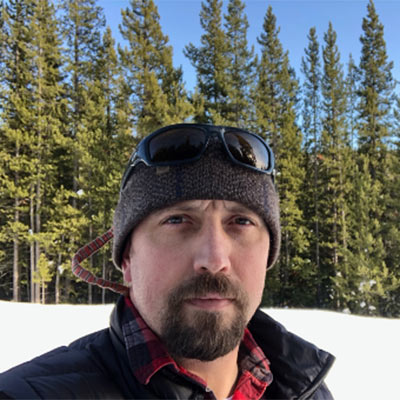 Associate Professor of Human Dimensions, Department of Society and Conservation, W.A. Franke College of Forestry and Conservation, University of Montana
Alex Metcalf graduated from the ESS Program in 2001 and looks back on why he chose Juniata and what he got from the experience. "I went to Juniata because on my campus visit, I really got the sense that the faculty were personally invested in students and willing to spend one-on-one time with undergrads," Alex explains. "I wanted that kind of experience as an undergraduate." Alex also chose Juniata for the Raystown Field Station and the flexible nature of the Program of Emphasis (POE) which allowed him to explore diverse interests simultaneously. "This kind of support and flexibility was fantastic." His time at Juniata was full of individualized mentorship and teaching, and what he describes as "just all-around support." Alex is thankful for the experiential learning opportunities facilitated by faculty at Juniata that bolstered his resume prior to graduation and gave him a taste of different possible careers. He worked at the field station, had an internship with the National Weather Service, worked with FEMA on floodplain mapping, completed assessments for local watershed organizations, and assisted the U.S. Army Corps of Engineers with management of Raystown Dam. This long list of experiences helped Alex eliminate things he was less interested in and find topics that really clicked, in his case Geographic Information Sciences; a knowledge point he has applied to every position since graduating. After leaving Juniata, Alex earned his master of science degree and Ph.D. from Penn State before joining the faculty at the University of Montana where he teaches and conducts research on the human dimensions of natural resource and environmental issues. Alex recommends ESS as a field of study for anyone interested in what he calls the pressing questions of our time: how we accomplish societal goals while maintaining the balance of natural systems.
Celina Seftas '07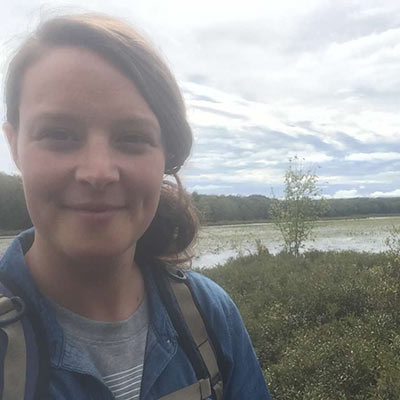 District Manager, Huntingdon County Conservation District
As the District Manager for the Huntingdon County Conservation District, Celina works with county government, local farmers and landowners, and other environmental agencies to improve soil health and water quality in her hometown area. She credits Juniata's ESS program for getting her ahead in her career. "Juniata provides a lot of hands-on ESS opportunities. For example, I knew how to measure the volume of stream flow after having done so during classes at Juniata. This was one of the first questions I was asked on a job interview after graduation. Within six months on the job, not only was I doing these stream measurements, but I was leading others," Celina explains. She has seen the ESS Program at Juniata grow over the years and notes that it provides more than just the tools for a position in environmental sciences; it provides the mindset and the conservation ethic needed to understand how to get people to take environmental action. Now, she is helping the ESS program by working with faculty to create community engagement field experiences. The students get to tour active restoration sites, meet professionals from several environmental agencies, and participate in the restoration work. Students have cut and installed live stakes, removed invasive species, and tested water quality during these excursions. The abundant experiential opportunities benefit the local agencies and give the students real world experience.